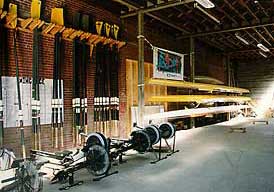 Rowing on the Ohio -- Business First article about the LRC (5/11/98). (The "three free introductory outings" mentioned in this article have been discontinued. For info on lessons, email us).
A Story about Sculling Camp -- LRC member Martha Barnette's account for The New York Times about learning to scull at the Florida Rowing Center (4/20/99)
American Pearl 1999 Atlantic Solo Row -- LRC member Tori Murden's attempt to be the first woman and first American to row the Atlantic -- completely alone. (Row, Tori, Row!)
University of Louisville Rowing -- The latest scoop on UL's rowing program, which currently shares our boathouse.
Frequently Asked Questions about Rowing (FAQ) -- A good introduction to the basics.
Row2K -- One of the most comprehensive online resources for rowers. If it's about rowing, you'll probably find it here.
USRowing -- Up-to-the-minute stats and results from rowing regattas.
About.com -- A well-organized guide that includes good introductory info for novices, plus a chat room.
RowingLinks.com -- A comprehensive list of rowing links that includes clubs, colleges, parts and equipment, books, and much more.
WWW Virtual Library - Rowing -- A list of other great rowing links.
Rachele Quarrell's Rowing Service -- An international rowing site with links to just about everything imaginable about rowing.
US High School Crews Page -- A state by state list of regional rowing associations, teams, and clubs with high school rowing programs.
A List of Rowing Terms -- A comprehensive glossary of rowing terminology. Learn why rowers hate to "crab" and work hard to perfect the "square" and "feather" of their blades.
Coast Guard Kentucky -- Check out the official Coast Guard regulations and conditions for the Ohio River.
Louisville.com -- More information about the River City that's home to our club.
"They bend forward with the height of striving;

The bronze-tipped ship trembles at the enormous strokes

And the ocean floor is drawn up from beneath them.

Then thick breathing shakes their limbs and parched mouths;

Sweat flows in streams everywhere."
-- from The Aeneid, translated by Barry Strauss